News
MakerWorld: A Community-Driven Gateway to the 3D Model Universe
by Christian on Sep 14, 2023
At Bambu Lab, we are on a mission to make 3D printing accessible to everyone. Our journey began with a desire to simplify 3D printing for makers like you. However, we soon discovered that an easy-to-use printer was only part of the solution.
Many beginners wrestle with challenges such as finding models, slicing, and transferring G-code. These obstacles can deter potential community members, whether it's a person confused by technical terms like "threshold angle for support" or another person unfamiliar with a new type of filament.
That's why we've developed MakerWorld, a collaborative 3D model platform that bridges model creators, users, filament vendors, and printers.
Several days ago, we started recruiting a small group of beta users for MakerWorld on social media to share feedback and experience our platform while we're still working on the final touches, before the open beta.
Why Another STL Sharing Website? Understanding the 3D Printing Ecosystem
You may wonder why we're creating another STL-sharing website.
We believe the stakeholders in the 3D printing community include more than just model creators and consumers. If you dive into this community deeply enough, you will understand that to achieve a perfect print, you need more than just a good model and a customer who is eager to learn.
We constantly require assistance from experts who possess a profound understanding of the printing process. Whether it's adding one more wall or increasing the nozzle temperature by ten degrees, their guidance is vital to creating a print that will make you smile once it's finished.
There are also numerous filament vendors who produce an extensive array of filaments, each requiring a specific filament preset to maximize its potential. How many times have we seen posts in the group seeking opinions about a specific filament or asking for advice on its printing characteristics?
MakerWorld is built upon the concept of uniting the forces of brilliant creators, slicing experts, filament vendors, and consumers. This collaboration ensures that not only the models but also the slicing know-how and the joy of creation are shared within the community. We strive to be supportive, open, and inclusive, aiming to provide an excellent experience for everyone involved.
For Customers: Your Path to an Innovative One-Step Printing Experience
Our ultimate goal is to lower the technical barriers, making 3D printing accessible and enjoyable to a broader audience. We're here to simplify the process for you, handling the complexities behind the scenes.
With an infrastructure composed of MakerWorld, Bambu Studio, and Bambu Handy App, we've streamlined printing to a single click.
The magic happens when various elements come together: the model from the creator, the print profile from the 3D printing expert, and the filament parameters from the vendors. All of these are united by our slicing service, a key component of our system, culminating in a G-Code that is tailored to the best community knowledge and sent directly to the printer.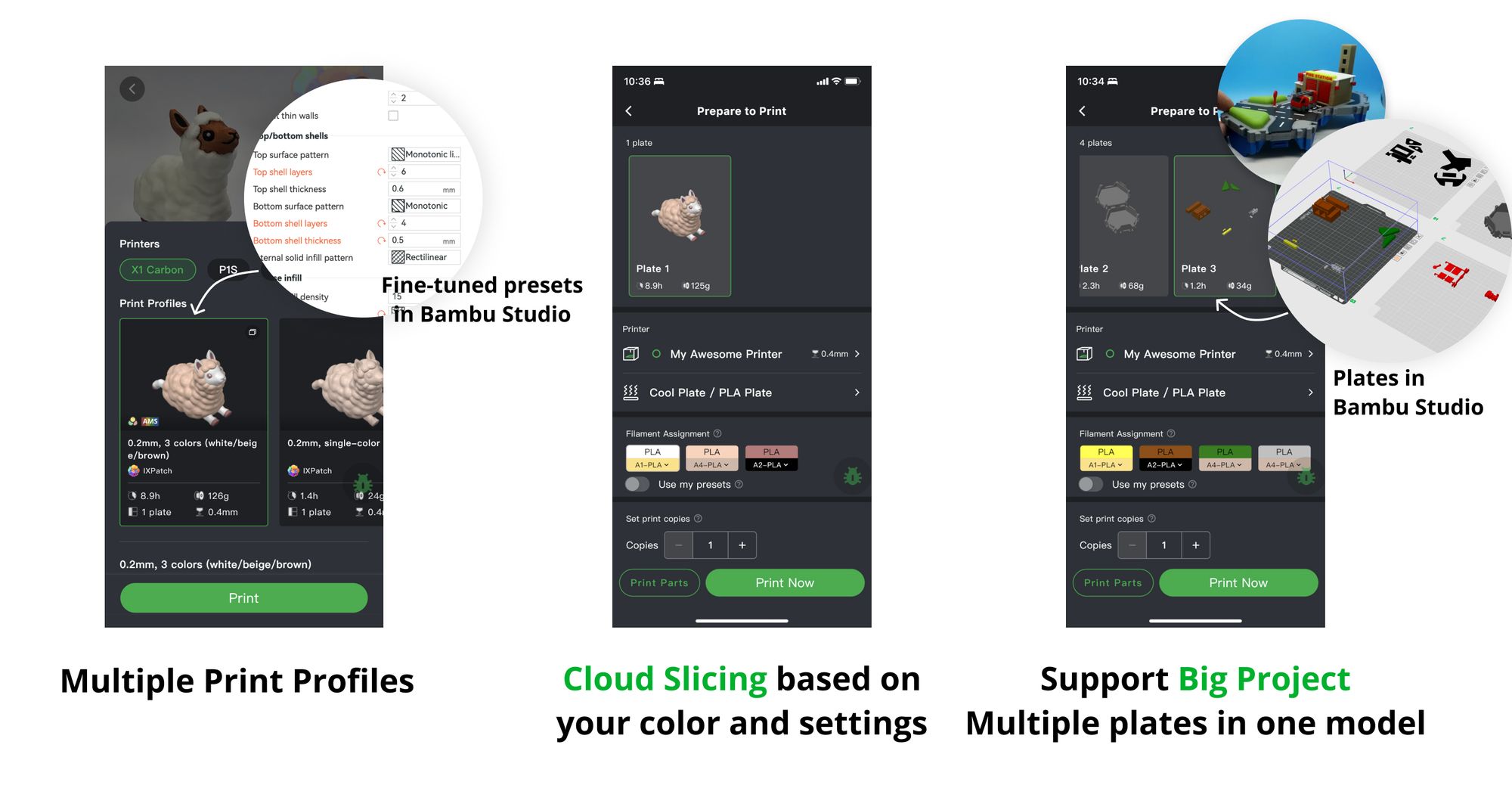 For Creators: Our Commitment to Your Rights is Unwavering
At MakerWorld, creators are at the heart of what we do, and we are dedicated to respecting and protecting your rights. Such commitment is reflected in many details. We have a dedicated team that swiftly addresses any infringement concerns, ensuring your intellectual property remains well-protected. We recognize that many models are released under the Creative Commons (CC) license and shared freely, and we're committed to proper attribution. It's mandatory for all models shared with a CC license to include the original link, and they will be displayed under the name of the original creator - even if the original creator has not registered an account on MakerWorld. Most incentives generated by downloading will be reserved by MakerWorld, ready to be claimed by the original creator.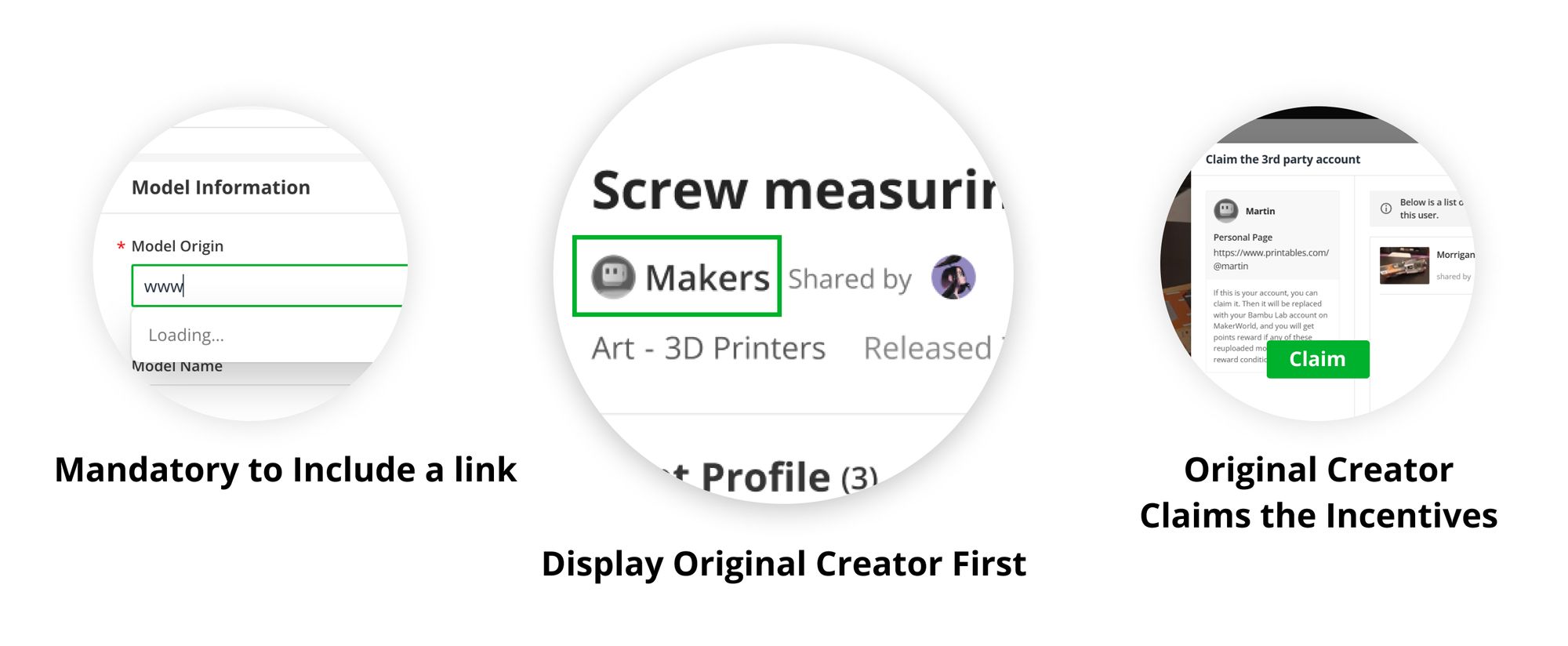 For 3D Printing Experts: Unleashing Your Skills for Mutual Benefit
We recognize the value of your expertise and want to create a platform where both you and the public can reap the rewards. Beyond the geometry of the model, we offer the added advantage of sharing the pre-sliced model with the best settings on the same page as the model. We believe that 3D printing should be accessible to all, not just those who have mastered the intricate art of slicing.
For creators who have a profound understanding of 3D printing, the design process integrates slicing configurations seamlessly. It's a straightforward process for them to upload the slicing profile in a 3MF format along with their model. We also invite community members with the right skills, to provide pre-sliced files to any model in MakerWorld. Not only does this collective effort enrich our library, but it also offers you additional incentives for your valuable contributions.

For Filament Vendors: Enhancing Your Filament's Performance is Our Priority
Achieving a perfect print is a collaboration between the right filament and the optimal printing parameters. We understand that the market boasts a wide array of vendors, each with its unique range of products. The community's desire to incorporate as many filaments as possible into our slicer has not gone unheard. However, creating and maintaining a comprehensive list of filament profiles is a complex task that extends beyond our current capacity.
That's where MakerWorld steps in, embracing an open-system approach. We enable anyone to upload their specific parameters for various filaments. This collaborative space allows the community to share, discuss, rate, and import these parameters, enhancing the collective knowledge base.
This feature is still under development as we want to make sure that everything is as simple as possible while providing the much-needed fine-tuned settings for excellent results.
For Non-Bambu Printer Users: We Welcome You
MakerWorld is not only focused on 3D printers made by Bambu Lab. We want to make it easy for every 3D printer user to join our platform and benefit from all the features we are bringing into MakerWorld.
Bambu Studio has already supported dozens of non-Bambu printers, and our team is working hard to further improve the experience of non-Bambu printer users. Related features will launch soon on both MakerWorld and Bambu Studio. We'll update everyone with more information about this as time goes by and we are closer to release.
Empowering Through the MakerReward System
At MakerWorld, we see community engagement as a two-way street. That's why we've introduced MakerReward, where every interaction with MakerWorld earns you points. These can be redeemed for an array of rewards, including unique models, sought-after filaments, coveted gift cards, and even printers.
It's our way of saying thank you for being part of our journey.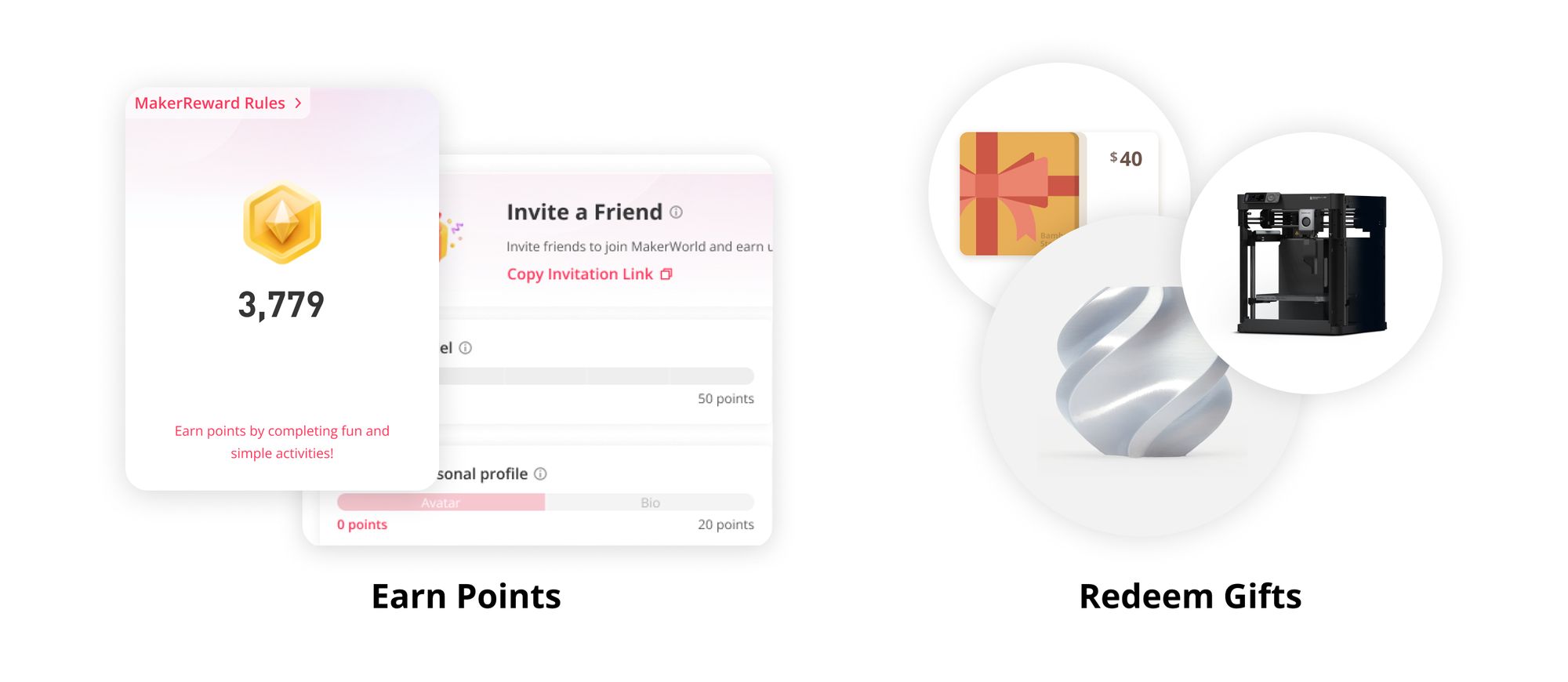 In several weeks, MakerWorld will enter the open beta stage. Your feedback will be our North Star, steering us toward excellence and refining our platform to serve you better.
Together, we can shape a world where imagination springs to life, one layer at a time. Whether you're a creator, a hobbyist, or just curious about 3D printing, we invite you to join us on this exciting adventure.
Welcome to MakerWorld!