News
Shipping update. Will you be able to print Christmas decorations ?
by Christian on Sep 14, 2023
It is no surprise to any of you that the holiday season is a very busy period for manufacturers of consumer goods and for logistics. However, we also know that this is an important time for you and your family. A time when you want to offer gifts that you have made yourself to your loved ones or embellish your house with fancy decorations to welcome them.
This is why we are delighted to announce today that, thanks to the hard work of everybody at Bambu Lab, we should be able to deliver every preorder registered up to today before the end of the year.
Yes, I said "we should" because, as you know, life is full of unpredictable events. We don't want to make promises that we are unable to keep. That said, as of today, enough X1 printers have been produced and loaded onto ships heading to our regional warehouses to fulfill every preorder we have registered so far. As long as everything goes as expected on the seas and roads, you should be able to showcase your new printer to your family before the end of the year.
Our updated shipping table now looks like this: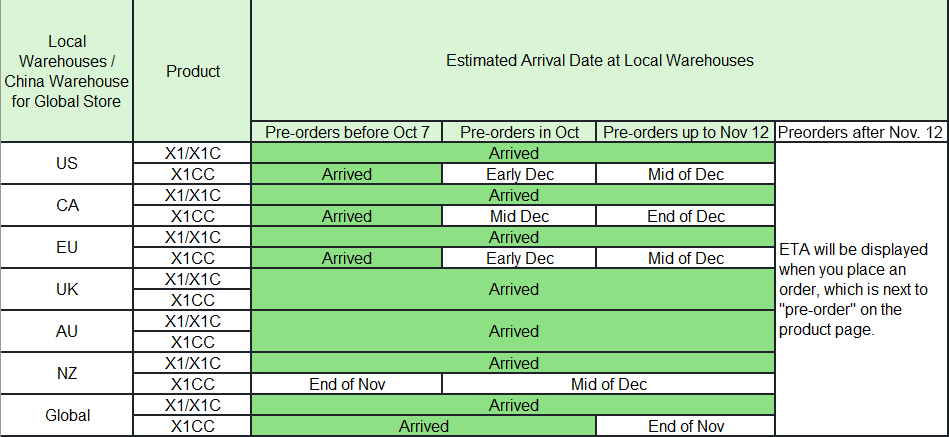 Let us remind you our process: the printers are built in our factory in Shenzhen. Then, they are loaded on boats (definitely the cheapest way to send parcels of this size and weight across the globe if we want to keep our prices as low as possible). Printers are sent by batches of several dozen for the same reason. Once our logistics partner confirms the reception of a batch of printers in their local warehouse, we send you the final payment email. Finally, once the payment is collected, the printer is shipped to you via a local courier service.
We know, from the significant amount of messages our customer support team receives every day, that some of you are still eagerly awaiting your X1. We know that mistakes have been made, and we have done our best to avoid or to correct them. Through this period, nothing has been able to stop us from working hard to get your printer to you as soon as possible, as we believe this is what you need from us. We hope that everyone will be pleased to learn about these shipping updates (and hope to lessen the burden on our customer support colleagues because we need them in good shape and full of energy for the substantial role they play in the experience we want to deliver).
Again, we want to thank you for your patience and support. We are delighted to see the flow  of pictures and videos of what you are able to make with your X1 coming to our #bambutiful and #bambuseful hashtags on social networks. Your messages telling us that this printer was worth the wait are also of great value to us.
And to further improve the experience, we have launched our official Bambu Lab Community Forum where you can discuss and share ideas with other X1 users. We think this will be the best tool to help users benefit from the expertise of our community.
We hope to meet you there soon.