News
Completing our KickStarter and beginning Pre-Order delivery Soon
by Christian on Sep 14, 2023
Kickstarter shipping status
We are thrilled to announce that our Kickstarter campaign is ending. Motivated by your tremendous support and feedback, everyone at Bambu Lab has been working relentlessly to get every Kickstarter backer their printer before the end of October. And we can now say that there is a good chance that we will reach this goal.
As of Oct. 7, mostly all KickStarter orders have been dispatched to our customers from the local warehouses, except for the last two containers en route to the EU, due to a delay caused by unstable logistics. Nevertheless, they will arrive by the end of October.
If you are outside of EU and have not received your shipping notification yet, please contact us at ksfulfillment@bambulab.com.
A quality assurance inspection is conducted on all X1 printers before it leaves the local warehouse to ensure that our X1 printers are in perfect condition for our customers. Unfortunately, due to unforeseen circumstances, some printers have arrived damaged. Please do not hesitate to notify us immediately should you experience this.
Pre-orders shipping status
The end of the Kickstarter campaign is an important milestone for us, but this is only the beginning of our journey in the 3D printing industry. As soon as we finalized the production of the Kickstarter units, we immediately launched a pre-order campaign to enable those who missed out to get an X1 printer as quickly as possible.
Thanks to the ramp-up of our factory, every pre-order registered before today have left the factory floor, and some of them on the sea are now very close to their destination.  
We are pleased to announce that the first pre-orders should reach the local warehouse in the next week for US, CA and AU and they will be sent to you right after.
For EU and UK, where the sea routes are a bit longer, delivery of pre-orders should start in the last week of October. And we would like to share the approximate ETA for all the pre-orders to ease your waiting. The reason we put the word "approximate" in front of the ETA is that it is close to Christmas now, and global logistics will again enter its busy mode. An accurate ETA will become difficult, if not impossible, to predict.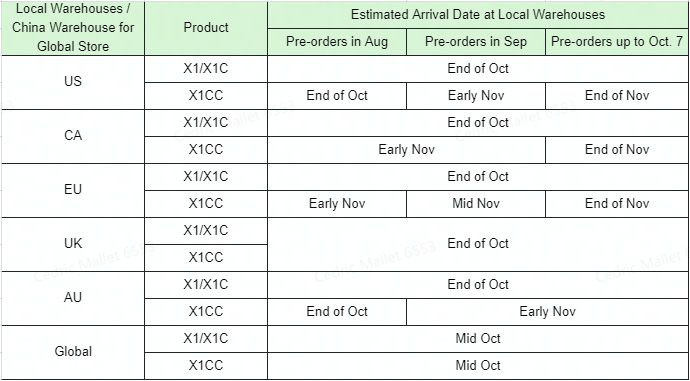 Due to this high demand and the growing number of pre-orders every day, we are still unable to say when we will have stock available in local warehouses for classic sales.  It will depend on the number of pre-orders we will register in the coming weeks. In case you want to secure your pre-order spot for delivery around the holiday season, it may be a good idea to make the pre-order right now on our official store.
What's next?
For the end of this year, we will stay focused on delivering all the pre-orders improving our logistics, and refining our software.
In the meantime, please continue sharing your feedback about your experience printing with the X1. It's invaluable to us. You can share your experience on our Facebook user group, our official Discord or on our subreddit, you can suggest software improvements on our Github, or you can just share some prints on Instagram or Twitter. We are so happy to see them.
When our software is refined, and our warehouses are reasonably filled with the stock of printers and parts, it will be time to unleash the creativity of our engineers again. And believe us, given their ideas, you will want to see what they are capable of.