News
Christmas Gifts from Bambu Lab
by Christian on Sep 14, 2023
The season of giving is upon us, so we felt it would be appropriate for us to partake in this tradition, and give our customers something to look forward to this season in the form of two gifts. We will be releasing a major software update that will contain a lot of amazing new features, along with a special seasonal model created by our very talented design team.

Our most ambitious software update yet!
We have put a lot of time and effort from the start into hardware development, but in 3D printing, software development is as important, if not more. After we released the X1 and X1C back in June, the software development team spent the first few months working around the clock to debug the software and ensure the stability of the printer's main functions. I can assure you, that our ambition for 3D printing software is beyond simply having a stable and functional printer. For the past two months, the tedious task of debugging a long list of emergencies has slowly been shrinking. Therefore, we started shifting our focus back to our original wish list, the one that reads "Let's do this so we can push 3D printing further". The upcoming major update to our software suite (Bambu Studio V1.4, Printer Firmware U3, AMS Firmware V5, Handy 1.0.6 and the latest cloud service) is the first step into our exciting journey to take 3D Printing to the future.

Enabling everyone to create their own models.
Studio V1.4 will make it much easier to create your own unique model, even if you don't have any CAD skills. Images that are converted to SVGs can now be imported into studio. This means that, together with the latest text engraving feature, which is enhanced by the Arachne engine (attribute to Cura), it has never been easier to create your own models, such as badges, nameplates, and much more.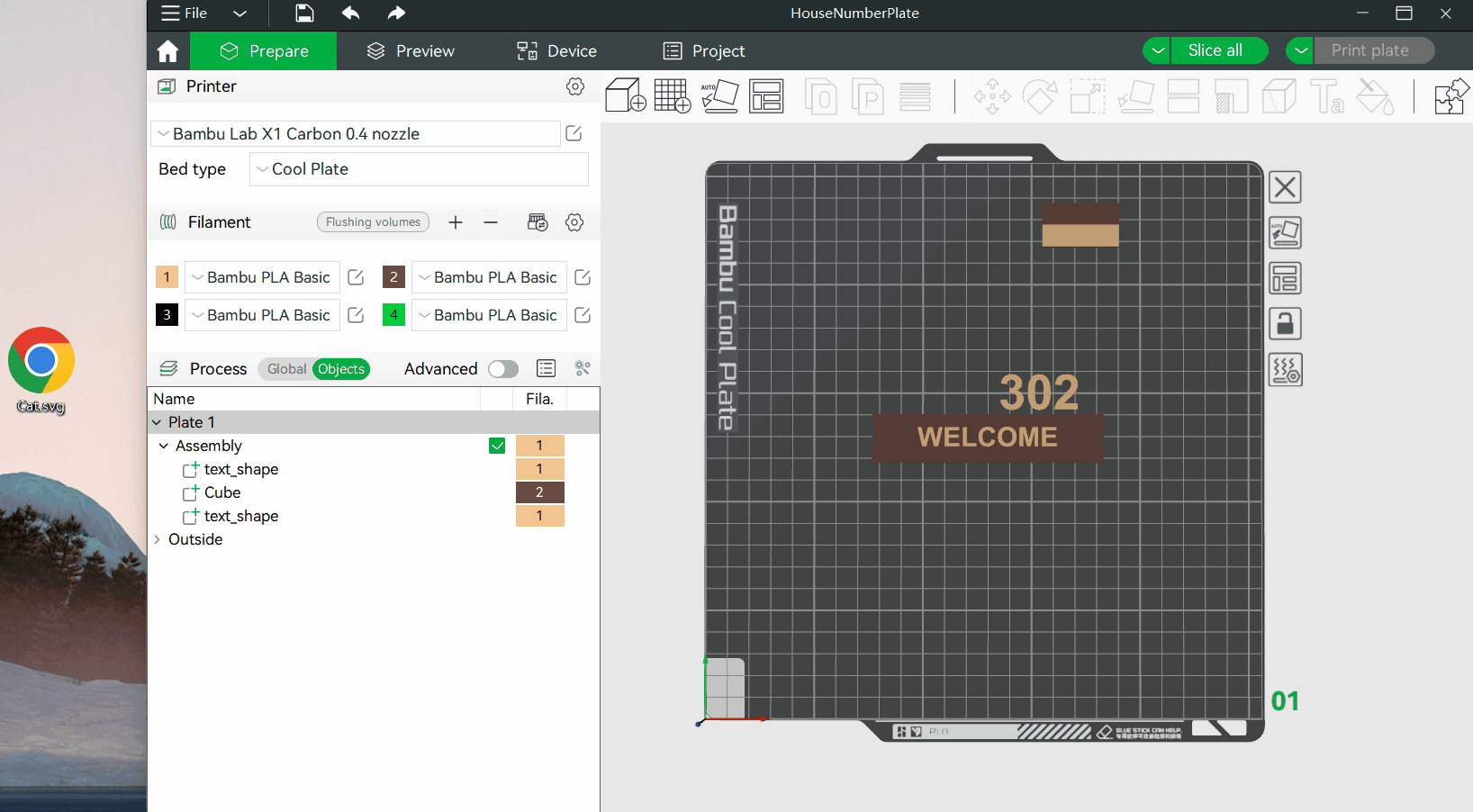 AMS gets boosted
Do you have too many spools lying around with little filament left in them, and wish to finish them all without worrying that your print gets interrupted? The AMS will now automatically switch to the same filament type when the current spool being used is finished. Bambu filaments are automatically identified by the AMS, along with the remaining capacity of a spool, which is also measured automatically after this upgrade.  For third-party filaments, you simply need to ensure that the filaments being used are set to be the same in the UI, i.e. two rolls in the AMS are set to be the same vendor, material and color. The humidity sensor is now enabled, so you can monitor the chamber environment via the printer UI or Bambu Handy and Bambu Studio remotely.
Streaming from the printer via OBS live video
Share the joy of 3D Printing with others, in real-time! You can now stream the printer's internal webcam directly through OBS, allowing you to engage your audience one layer at a time!

Security and privacy
Last month, a network security concern was raised, and since then, we mobilized the software team to work together with many friends all around the world to improve the security of the whole system.  Here is a short list of improvements made in the past three weeks.
HTTPS protocols have been enforced on the communication between cloud and clients.
Videos and pictures transmitted to Handy and Studio are now encrypted with DTLS.
We enabled TLS for all access from clients to the cloud.
You can now remove all your print history from the cloud.
When Private mode is activated in the APP, the cloud will not store any history.
Not only a model but a whole Project
When you up your 3D Printing game from a single-color part, to a full-on multi-color, multi-plate project, organizing the process becomes a much more challenging task. You don't want to spend time painting the parts scattered on different plates, and then having to visualize what the assembled model will look like. There are so many parts involved in some models that can make it a very tedious task to organize; sorting each part by name, possibly even missing a part or two, grouping the parts with their respective colours or materials to minimize the purging waste and printing time, streamlining the process of printing one plate at a time, without the need to go back to slice the model, upload etc.
In the latest Bambu Studio,  you can paint the model when it is assembled to reduce guesswork. Then, simply use the Auto Arrange function and organize the parts in the most ideal way to minimize print time as well as purging. You can also slice the whole project and send it to the printer all at once, and then simply print them out one by one from the printer. Aside from all these 3DP related features, our 3MF model file could include the license information, BOM list, assembly guide, and pictures, all for you to just enjoy your project.
All of these features are going to be demonstrated in our second Christmas gift, the Bambu Christmas Cabin.

Bambu Christmas Cabin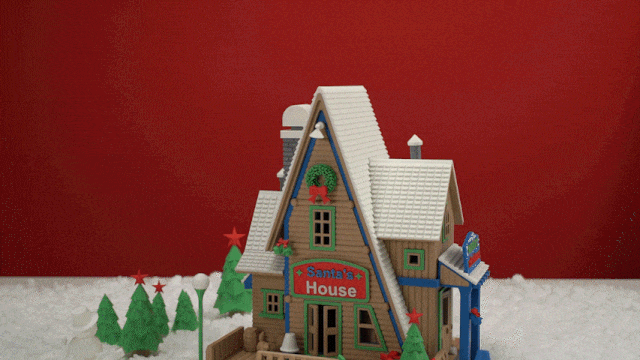 This seasonal model has 113 parts, and by default prints in 6 colors that lay down on 9 separate plates. Once upon a time, a project of such scale demanded a certain amount of courage to start preparing and slicing, let alone print it.  Now, with Bambu Lab's hardware and software, you can finish the print within two days and customize the colors to your liking. You can even customize the text and the logo!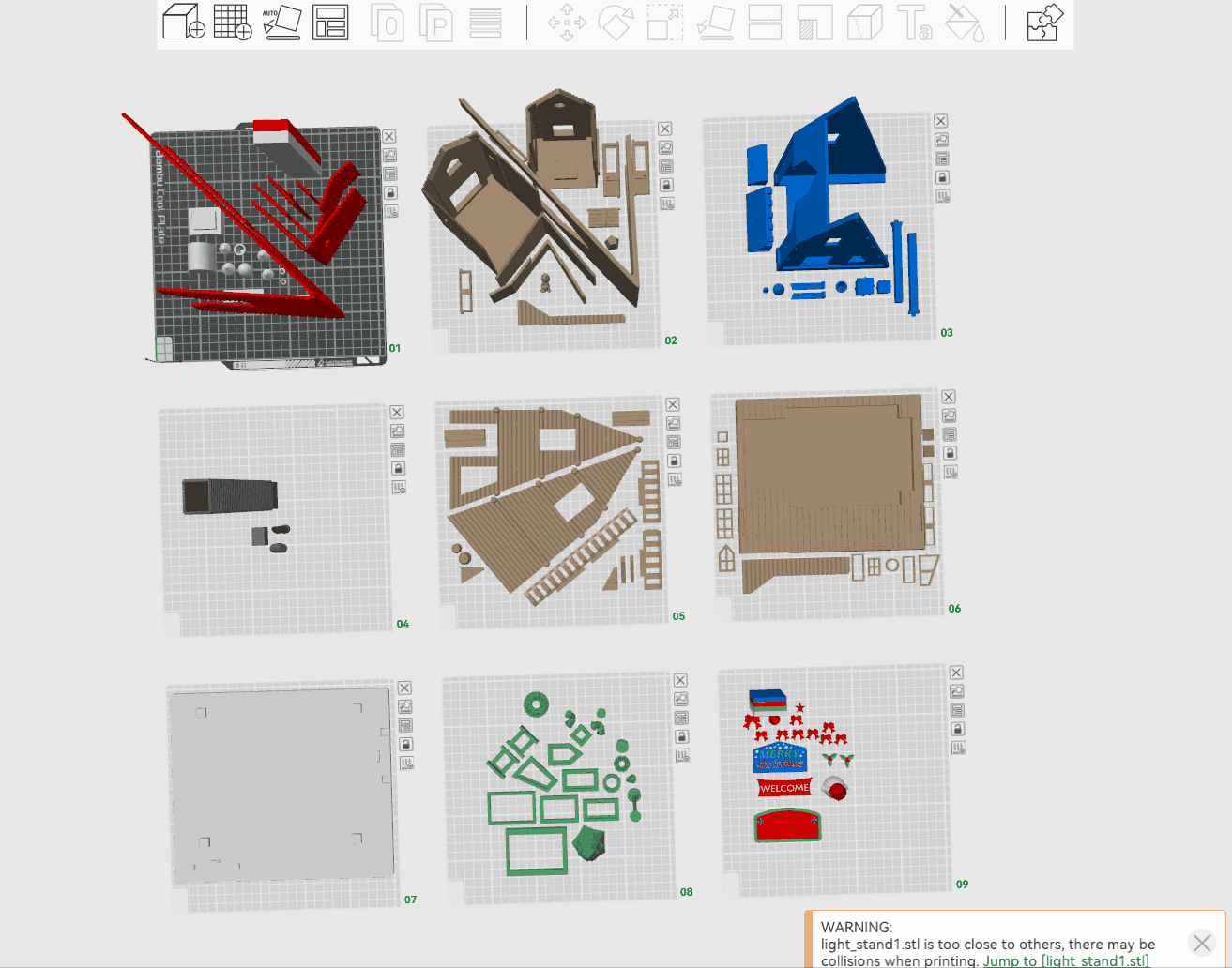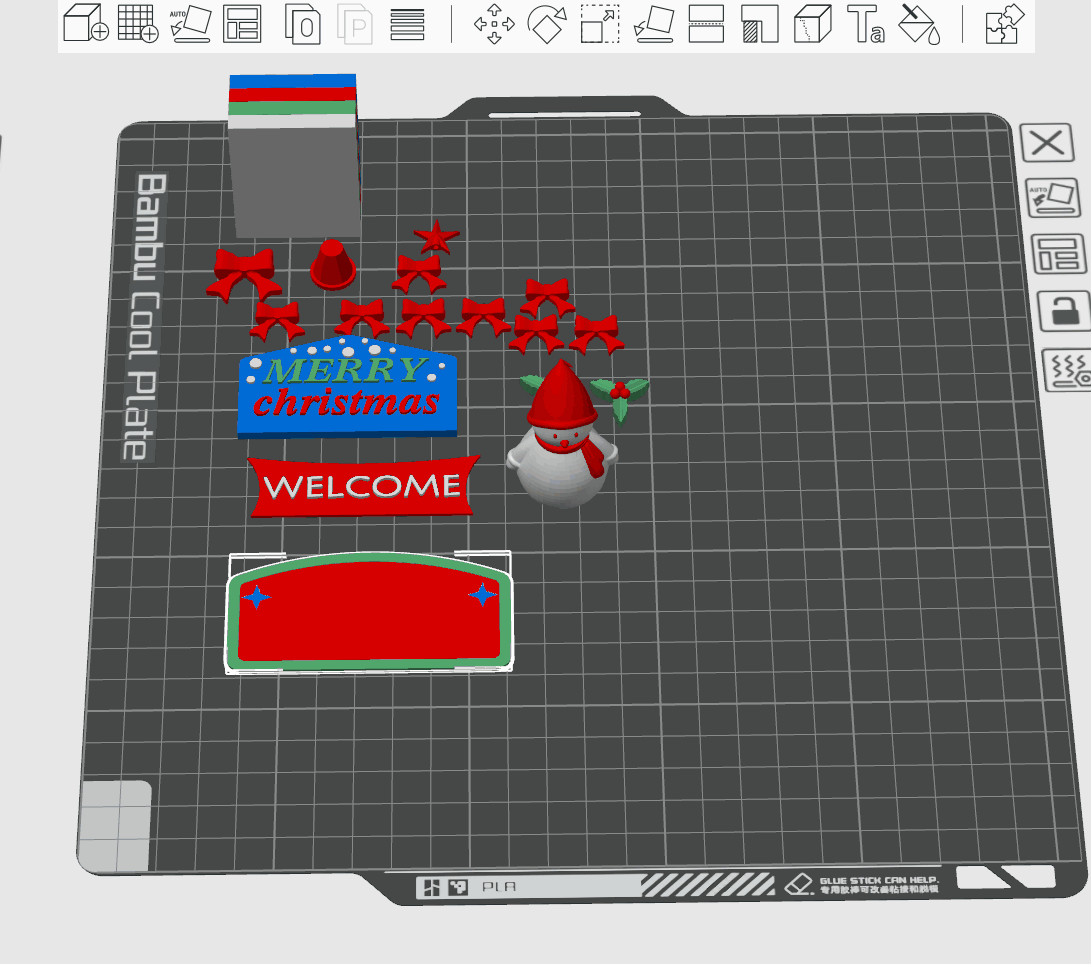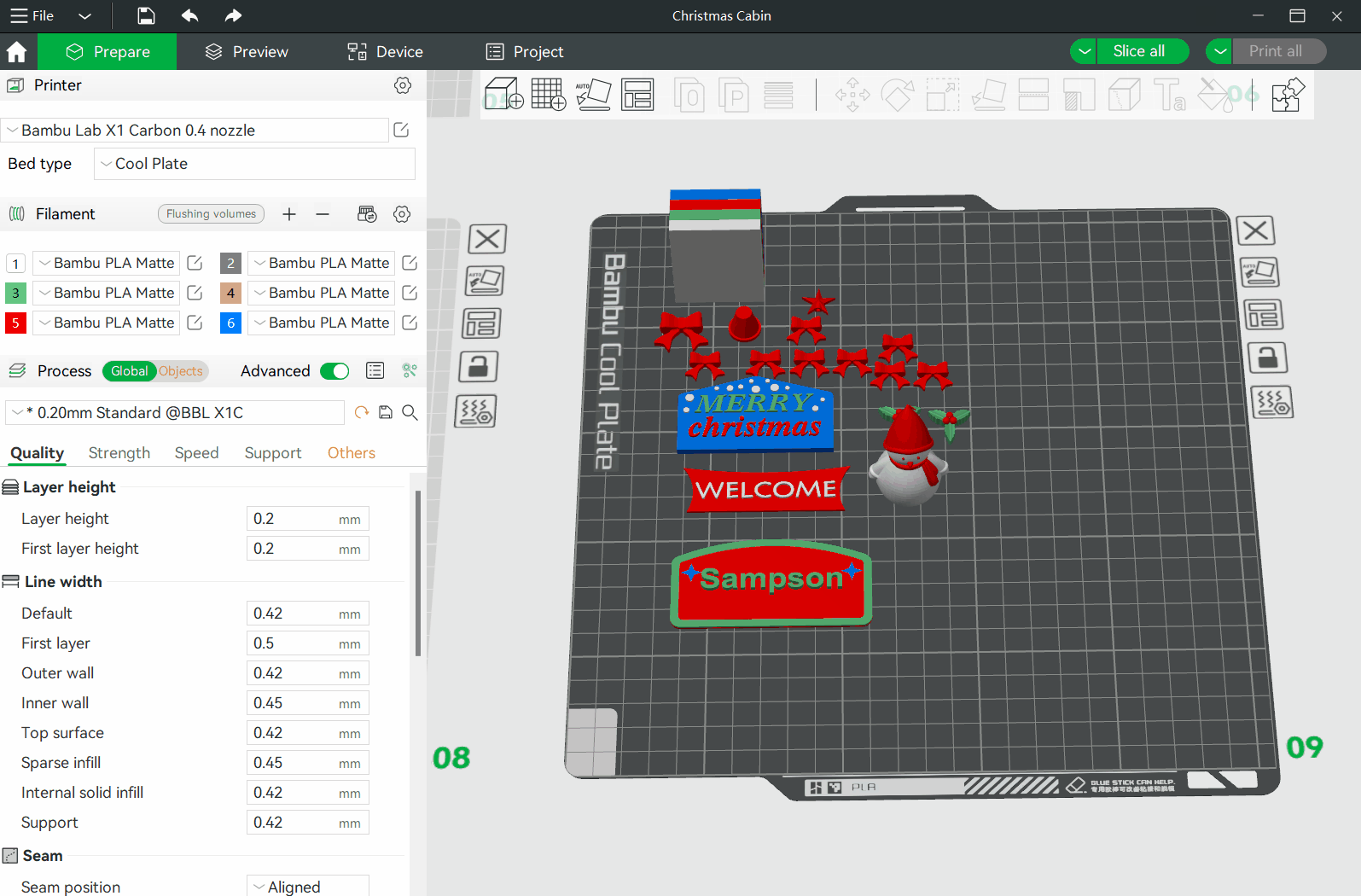 The Bambu Christmas Cabin will be released with Bambu Studio V1.4 in 3MF format. It is pre-sliced, pre-colored with pictures, an assembly guide, and BOM, all built-in, so you are just a few clicks away from printing it, and you have the full freedom to customize it to your own liking.
One last thing, we heard good news from our logistic partner that some containers arrive in the local warehouses early. So in some countries, P1P will be delivered early, before the Christmas. And X1 will be in stock in many countries starting this month.  Here is the table of ETA of all the pre-order units.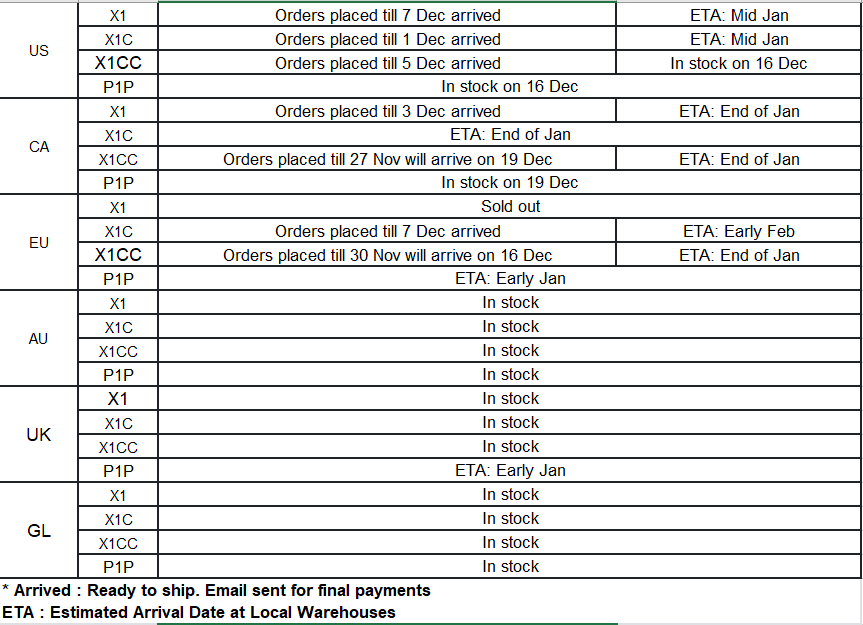 Merry Christmas and Happy New year!